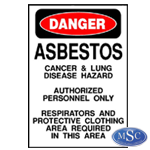 ASBESTOS DANGER SIGNS
Asbestos Danger Signs are paper signs that must be posted at all of the entrances to a containment area. Asbestos danger signs must also be posted the entire perimeter around the job site.
PACKAGING: 100 SIGNS/PACK
SIZE: 11" x 17"
LANGUAGES: ENGLISH / SPANISH / POLISH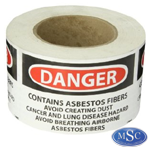 ASBESTOS DANGER LABELS
Asbestos Danger Labels are placed on bags containing asbestos materials along with poly sheeting around the containment area. Asbestos Generator Labels are used on bags and allow space for the job name/address etc to be written in to disclose the information of the site where the asbestos containing material is located.
ROLL SIZE: 1,000 LABELS/ROLL
LABEL SIZE: 3" X 5"