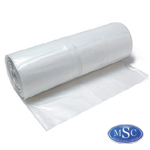 POLY SHEETING
Poly Sheeting is used to build containment areas on job sites. Poly Sheeting will help prevent airborne fibers from escaping the work zone.
TYPES: FLAME RETARDENT, CLEAR, FR REINFORCED
SIZE: ROLLS ARE 20FT WIDE X 100FT WIDE
THICKNESS: 4 MIL, 5 MIL, 6 MIL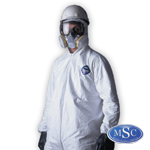 PROTECTIVE SUITS
Protective Suits are worn inside containment areas for easy removal before entering decontamination rooms.
TYPES: TYVEK, POLYPROPYLENE, MICROPOROUS
QUANTITY: 25 SUITS/BOX
SIZES: XL - 4XL
COLORS AVAILABLE: WHITE, BLUE, YELLOW