FIBERGLASS PRE-FORMED FITTINGS AND ELBOWS
Molded pipe fitting insulators are molded in two matching half sections, using fine, inert fibered glass of uniform density, utilizing a thermosetting resin. Sections match as premolded units with no handwork, and are resilient and light in weight.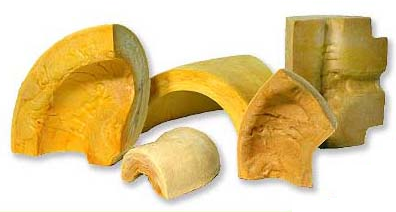 APPLICATIONS:
Premolded fittings are designed to insulate heating, cooling, or process piping systems operating at temperatures from -20°F to +650°F. The fittings are normally applied by placing two premolded matching half-sections over the pipe fitting, and joining them together using tape, wire, or adhesive. After being joined, the fitting is ready for jacketing, vapor barrier coating, or other finishes.
When ordering please specify the following:
1. Type of material to be used (Fiberglass or Mineralwool)
2. Type of fitting (90°, 45°, Tee)
3. Thickness of Insulation needed
4. Type of Elbow (Screwed, Weld, Copper Tube)
*AVAILABLE IN FIBERGLASS OR MINERALWOOL