SELF-STICKING INSULATION HANGERS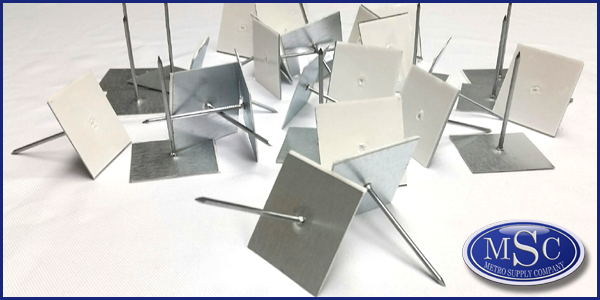 SELF-STICKING INSULATION HANGERS
(PEEL & PRESS)

Self-Sticking Insulation Hangers are used to fasten insulation materials to sheet metal quickly and easily. The most common application is for fiberglass duct wrap on sheet metal HVAC ductwork. Each pin's metal base has a foam adhesive on the bottom which is revealed when the wax release paper is removed. Once the insulation is pierced onto the pin, a locking washer or a domed cap can be installed to hold the insulation in place.
PRODUCT COMPOSITION:
PIN: The pin is made from 12 gauge annealed low carbon steel.
(Available in copper coated, aluminum, or stainless steel.)
BASEPLATE: 2" x 2" Square Plate made from glavanized steel.
ADHESIVE FOAM: 1/32" thick double sided foam with release paper.
TEMPERATURE RANGE:
0ºF to 140ºF
LOAD LIMIT:
2lbs per hanger
AVAILABLE SIZES:
Lengths from 3/4" up to 5-1/2"
COMMON SIZES:
1-5/8": Commonly used for 1-1/2" .75# Fiberglass Duct Wrap
2-1/2": Used for Fiberglass Duct Wrap over 1-1/2" thick
RESTRICTIONS:
Do not use on metal buildings or ceilings where temperatures due to sunlight exposure may exceed 140ºF
Do not use on cement, wood, or painted surfaces
Must be used on clean dust-free surfaces.
Do not exceed spacing of 12" between hangers and 2lb load per hanger.
| | |
| --- | --- |
| | Self-Sticking Insulation Hangers are popular due to their fast and quick install. Simply remove the release paper and stick the pin onto the sheet metal. Make sure to apply a firm and even pressure onto the base to insure a proper bond. |