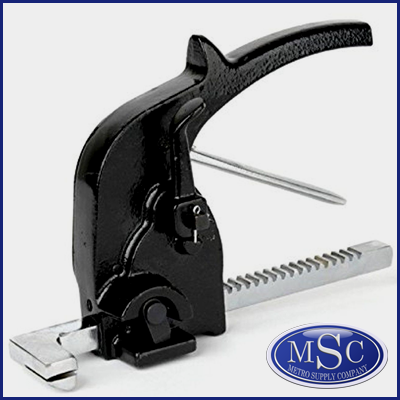 PUSH BAR TENSIONING TOOLS
Push Bar Tensioners apply regulated tension to strapping to create a tight and permanent closure of insulation aluminum and stainless steel jacketing. Push Bar Tensioners are great for tightening fab-straps on larger diameter piping, vessels, and tanks which cannot be hand tightened to the proper tension point. Push Bar Tensioners are pistol gripped which allows easy tensioning without hurting your hands like other tensioner models which require two hands to use.
Push Bar Tensioners can be used on aluminum and stainless steel banding although care must be taken when tensioning aluminum straps to prevent snapping. Tensioners can be used for straps 3/8" wide up to 3/4" wide and thicknesses between .015" to .023".
Metro Supply also distributes replacement parts for most push bar tensioners use for insulation.
---