ROXUL ENERWRAP 80 MINERAL WOOL INSULATION BLANKET
A HIGH TEMPERATURE FLEXIBLE BLANKET WHICH IS GREAT FOR LARGE PIPING, BOILERS AND TANKS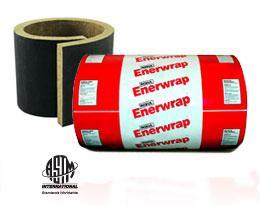 PRODUCT INFORMATION:
Roxul Enerwrap 80 is a scrim-faced, flexible, stone fiber blanket insulation that's non-combustible and designed specifically for hard to fit, high-temperature surfaces such as large, irregular shaped pipes.
This stone fiber based insulation product is made from natural stone and recycled content. It's a green product that reduces environmental noise, while also providing excellent fire and water resistance for protecting personnel and equipment, as well as the planet. Enerwrap80 is available in 42 different thicknesses and length combinations to fit any large-diameter pipes, vessels, boilers, tanks, furnaces, and structural members of all shapes and sizes. This product is also available with reinforced foil facings by special order.
FEATURES:
Non-combustible stone wool insulation with melting point of approx 2150°F
Black fibrous glass scrim for single and multi-layer applications
Reinforced foil facing for single layer applications
Water and moisture resistant; does not absorb moisture to maintain insulating value
Non-directional fiber composition and density controls noise
Non-corrosive
FIRE RESISTANT
Roxul Enerwrap 80's combination of stone fiber and recycled content makes this insulation non-combustible and fire resistant. This product is designed for operating temperatures up to 1200°F (650°C) and withstands heat up to 2150ºF (1177ºC) without melting. It provides an excellent barrier to flame spread and a critical line of defence in fire control for all personnel and equipment.
NOISE CONTROL
The stone fiber content of Enerwrap 80 has a unique non-directional structure and density to effectively reduce airflow and essentially, sound transmissions. This denser structure, coupled with tight, seamless joints create an effective barrier to pipe noise and contribute to much quieter and safer work environments.
WATER RESISTANT
Developed for the demanding and harsh conditions of North America's oil and gas, power generation, and petrochemical industries, Roxul Enerwrap 80 does not absorb water or hold moisture. It's ideal for pipe applications in moisture intense environments because its dense stone fiber content naturally repels and drains water away from pipes without ever compromising R-value. Ideally, this product does not promote fungi or mildew growth and is chemically inert to eliminate corrosion.

ECO-FRIENDLY FEATURES
Enerwrap 80 is a truly innovative pipe insulation that offers a world of green features, which helps developers earn LEED (Leadership in Energy and Environmental Design) points across six construction categories and helps industrial plants contribute to a much greener planet. Enerwrap 80's greenest features include:

• Natural, inorganic material with recycled content
• Non-combustible without dangerous chemicals
• Excellent sound absorption for acoustical comfort
• Higher R-values for consistent thermal performance
• Chemically inert for minimizing indoor air quality pollutants
• Resistance to growth of mold, fungi, and bacteria
• CFC and HCFC free product and process
---