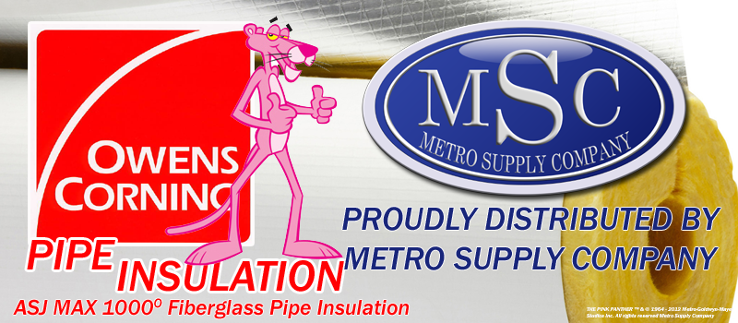 OWENS CORNING ASJ MAX 1000º FIBERGLASS PIPE INSULATION
METRO SUPPLY COMPANY IS THE LARGEST DISTRIBUTOR OF OWENS CORNING FIBERGLASS PIPE INSULATION PRODUCTS IN THE NEW YORK CITY / NORTHERN NEW JERSEY REGION
DESCRIPTION:

Owens Corning Fiberglass pipe insulation is molded from heavy density resin bonded glass fibers. Each section is 36" long (3 feet) and is hinged to allow each piece to be easily placed over the pipe and closed securely by the ASJ MAX lap closure system. ASJ MAX is a revolutionary new jacketing system that matches the older All-Service Jacket (ASJ) yet has many key advantages over the standard ASJ jacket.


USES:

Owens Corning ASJ MAX Fiberglass Pipe Insulation is an extremely versatile insulation and is the product of choice for most hot and cold pipe systems. ASJ MAX can withstand pipe operating temperatures from well below freezing (0°F) all the way up to sweltering temps of 1000°F!
Common Pipes insulated with Fiberglass Pipe Insulation:

Steam Heat Supply / Return
Domestic Hot Water
Domestic Cold Water
Chilled Water/ Liquids
Refrigerant Lines
Drain Lines

KEY BENEFITS OF ASJ MAX JACKETING:

ASJ MAX Jacket is 80% tougher than standard ASJ
Top Polymer layer helps with water resistance
Does not "yellow" when wet and will not stain
Dirt can easily be wiped off with damp cloth
SSLII Lap System ensures a permanent closure
Will not support mold or mildew growth

REVOLUTIONARY NEW ASJ MAX JACKETING
SIZES:
Metro Supply Company stocks 5 wall thicknesses of pipe insulation (1/2", 1", 1-1/2", 2", & 3" thick)
Sizing includes both Iron Pipe Sizes (IPS) and Copper Tubing (CTS) from as small as 1/2" up to 28" pipe sizes!
SPECIAL ORDER SIZES:
Metro Supply Company can get any non-stock pipe size or wall thickness within 7 days!
Pipe Sizes up to 33" and wall thicknesses of up to 5" (Some Sizes are MTO- Made to Order)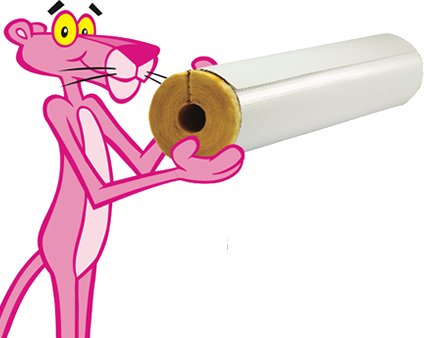 STANDARDS CODES COMPLIANCE:
ASTM C547, Mineral Fiber Pipe Insulation, Type I to 1000°F
ASTM C1136, Flexible Low Permeance Vapor Retarders for Thermal Insulation: Types 1-IV
ASTM C795, Thermal Insulation for Use in Contact with Austenitic Stainless Steel
MIL-I-22344D, Insulation, Pipe, Thermal, Fibrous Glass
Nuclear Regulatory Commission Guide 1.36, Non-Metallic Thermal Insulation
Doesn't contain the fire retardant decabrominated diphenyl ether (decaBDE)
MIL-1-24244C (Ships) Insulation Material with Special Corrosion, Chloride, and Fluoride Requirements
U.S. Coast Guard Approval No. 164.009, Noncombustible Materials (no-wrap)
CAN/CGSB-51.9 – Type 1, Class 2
New York City MEA No. 344-83, 408-07-M
NFPA 90A
DATASHEET