OWENS CORNING FIBERGLASS PIPE INSULATION SSL II
DESCRIPTION:
Owens Corning Fiberglas pipe insulations are molded of heavy density resin bonded inorganic glass fibers. These one-piece, 36" long, hinged sections are opened, placed over the pipe, closed and secured by means specific to the type as described below.
Fiberglas Pipe Insulation SSL II is jacketed with a smooth, reinforced, wrinkle resistant all-service (ASJ) vapor retarder jacket. Factory applied double pressure sensitive adhesive closure provides positive mechanical and vapor sealing of the longitudinal jacket seam. Pressure sensitive butt strip seals complete the positive closure.
USES:
Insulation of hot, cold, concealed and exposed piping operating at temperatures from 0°F to 1000°F in commercial buildings, industrial facilities, and process or power plants.
Most commonly insulated pipes are:
Steam Heat Supply / Return
Domestic Hot Water
Domestic Cold Water
Chilled Water/ Liquids
Refrigerant Lines
Drain Lines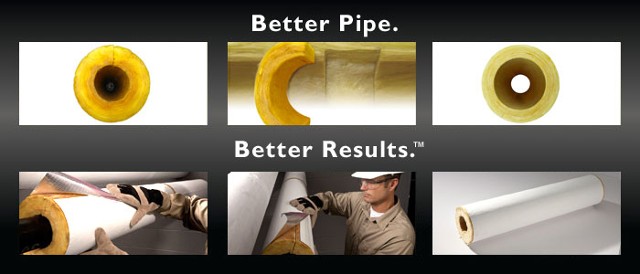 STANDARDS CODES COMPLIANCE:

• ASTM C547, Mineral Fiber Pipe Insulation, Type I to 1000°F

• ASTM C1136, Flexible Low Permeance Vapor Retarders for Thermal Insulation: Types 1-IV

• ASTM C795, Thermal Insulation for Use in Contact with Austenitic Stainless Steel

• MIL-I-22344D, Insulation, Pipe, Thermal, Fibrous Glass

• Nuclear Regulatory Commission Guide 1.36, Non-Metallic Thermal Insulation

• Doesn't contain the fire retardant decabrominated diphenyl ether (decaBDE)

• MIL-1-24244C (Ships) Insulation Material with Special Corrosion, Chloride, and Fluoride Requirements

• U.S. Coast Guard Approval No. 164.009, Noncombustible Materials (no-wrap)

• CAN/CGSB-51.9 – Type 1, Class 2

• New York City MEA No. 344-83, 408-07-M

• NFPA 90A
DATASHEET
WE DELIVER TRUCKS FULL OF OWENS CORNING SSLII ALL DAY LONG!